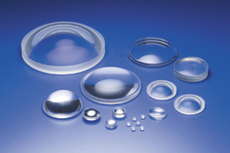 HOYA has established the unique technology that produces a large amount of highly accurate aspherical glass molded lenses. In the process low Tg glass materials and super precision aspherical mold die are used, both supplied by in-house resource. Our glass mold lens are supplied to interchangeable lens, single lens reflex camera, digital camera, video camera, projector lenses, in-vehicle camera, cellular-phone camera, BD picking up or collimator lens and LBP laser application.
Our strong point
Our competitive power is to have a consistent process from the production of materials to the finished aspherical lens. We have been developing suitable optical glass material for the aspherical glass molding, high productivity molding machine. Moreover, various advanced technologies concerning the glass molding are continuously pursued. Also highly accurate lens such as concave meniscus lens will correspond. Making for trial purposes and the mass production of the custom goods based on the lens design drawing are received, please feel free to contact us for inquiry.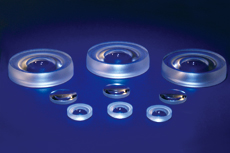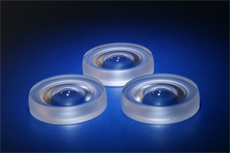 1) Improvement and development of optical glass
The improvement and development of the optical glass that can achieve the demand from the upgrading optical design are continuously done. Our optical glass are suitable for mass production and price effective, also all of our optical glass are environment friendly containing no lead or arsenic.
2) Optical lens design
Please consult about the optical lens design of BD picking up or collimator lens and LBP laser application.
3) Mold die fabrication
A highly accurate mold die used for the aspherical molding glass is prepared in-house. Our mold die production technology has been supported by the super precision mold die processing technology and the aspherical shape evaluation and control technology.
4) Preform glass
Suitable preform glass is needed for the aspherical molding process.
5) Glass molding process
Glass molding process is executed using our in-house designed molding machine. Our recent improvement can achieve the fabrication for the medium size aspherical glass molding lens refer to interchangeable lens.
6) Coating, centering and other special request
We can apply to the specific multi coating request up to the customer request, please feel free contact us. Also we have in-house production capacity for the special lens cutting such as D-cut or I-cut. Lens painting or cementing(aspherical/spherical) request are also acceceptable.
7) Evaluation
More than 20 years of experience in asherical lens fabrication we can correspond to the request of aspherical surface measurement, lens decenter/tilt measurement and evaluation of the customer need.
8) Tolerance of lens specification
Please consult to us about the concrete tolerance of each lens drawing, if any.
<Images of aspherical Glass molded Lens>
| | | |
| --- | --- | --- |
| for SLR camera | for Compact DSC | Objective Lens for blu-ray disc |
List of Glass Types (Glass Molded Lenses)
|    | Glass Type | Code |    | Glass Type | Code |    | Glass Type | Code |
| --- | --- | --- | --- | --- | --- | --- | --- | --- |
| ◎ | M-FCD1 | 497-816 | | M-TAC80 | 729-540 | | M-TAFD51 | 821-427 |
| ◎ | M-FCD500 | 553-717 | | M-FD80 | 689-312 | ◎ | M-TAFD305 | 851-401 |
| ◎ | M-PCD4 | 619-639 | | M-FDS2 | 002-193 | | M-TAFD307 | 882-372 |
| ◎ | M-PCD51 | 592-670 | | M-FDS910 | 821-241 | Ref. | M-LAC8 | 713-539 |
| ◎ | M-PCD55AR | 639-552 | | M-NBFD10 | 834-373 | Ref. | M-TAC60 | 755-512 |
| ◎ | M-BACD5N | 589-613 | ◎ | M-NBFD130 | 806-407 | Ref. | M-FDS1 | 923-209 |
| ◎ | M-BACD12 | 583-595 | | M-TAF31 | 801-455 | Ref. | M-LAF81 | 731-405 |
| | M-BACD15 | 623-582 | ◎ | M-TAF101 | 768-492 | Ref. | M-NBF1 | 743-493 |
| ◎ | M-LAC130 | 694-532 | | M-TAF105 | 773-495 | Ref. | M-TAF1 | 773-495 |
| | M-LAC14 | 697-555 | | M-TAF401 | 774-472 | Ref. | M-TAFD405 | 952-298 |